New Tea Products: Easy, portable ways to brew tea
Want to use your water bottle to brew cold tea? Or want a perfectly brewed  cup of loose leaf or teabag  with the push of a button?  Here are two award-winning designs.  (More products on future posts.)
Cold brewed tea in your own water bottle (right) is the concept behind Steep & Go, by The Tea Spot, a Colorado-based environmentally and socially conscious company.  You put loose leaf tea in any water bottle, attach the reverse infuser, wait 10 minutes, and amazing but true–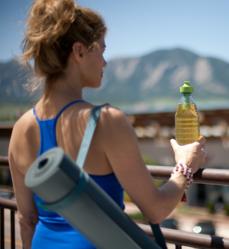 Your own tea without preservatives, calorie-loaded sugars, and added cost. It won
Best New Product in the innovation category at 2012 World Tea Expo.
  Available in late June from their online tea shop.  
http://theteaspot.com
 web site: 
$6.95.  
note: the website is somewhat confusing to navigate.  Steep & Go  wasn't available online as of this posting. Keep trying –it's a very good concept. Other products look interesting, but LTR hasn't tried them.
.Perfect cup of tea with a touch of a button:  When Suzan Sculatti of Tea Time Trading Company in the bucolic Napa Valley saw the little, clear teapot that her friend brought back from a trip, she knew it was a winner– and knew she could do better. The result:
One Touch Teapot," voted best new product by Expo in 2011. You put loose-leaf — or a teabag — in the basket, add water, snap shut, brew to desired strength,  press the red button, and hold it down until the water is gone.
The result: Instant tea of your choice to the strength you want. And because the water level is below the tea once you press the button, the leaves don't sit in the water.  It's fun to watch the tea brew and you can infuse again, depending on the tea. There are two styles: One with spout, one without. Both are made of shock resistant borosilicate glass with BPA-free plastic infuser and stainless steel filter. New models come in spring green or basic black. Dishwasher safe. Available from www.teatimetradingco.c om/ and from Amazon, Bed Bath and Beyond or other sites: $29.00 – $34.00.
One Touch Teapot: two styles